Find a Place to Fish in Aberdeenshire
Find out where to fish – ALWAYS BEST TO GIVE THEM A RING – search for the best places to fish near you, local fishing spots, using our fishing lakes directory.In addition, learn more about species that can be caught in these waters as well as places to buy fishing tackle, licenses, equipment etc. from our friendly experts listed here.
Cameley Trout Lakes, Inverkeithny House, Huntly, AB54 7XB
Tel. 01466 730305
Forgue Fish Farm, Huntly, AB54 7XD
Tel. 01466 730266
Lochter Activity Centre, Oldmeldrum, Inverurie, AB51 0DZ
Tel. 01651 872000
Midmar Stillwater Fishery, Bogindhu, Inverurie, AB51 7ND
Tel. 01330 833298
Murray Deeside Marketing Ltd, Moine Na Vey, Ballater, AB35 5UD
Tel. 01339 755459
Springwater Lakes, Marnoch Lodge, Bridge of Marnoch, Huntly, AB54 7UE, Aberdeenshire
Tel. 01466 780872
The Lynne May Fishing Co, 17 Seagate, Peterhead, AB42 1JP, Aberdeenshire
Tel. 01779 477111
W J Braddick, Little Brigend Farm, Alford, AB33 8PL
Tel. 01691 828708

Fishing Lake: If you manage a fishing lake in Aberdeenshire please contact us for your free listing here.
Covering the following areas in Aberdeenshire: Aberdeen, Aberlour, Aboyne, Alford, Ballater, Ballindalloch, Banchory, Banff, Buckie, Castle Douglas, Dalbeattie, Ellon, Fraserburgh, Huntly, Insch, Inverurie, Keith, Kirkcudbright, Laurencekirk, Macduff, Milltimber, Peterculter, Peterhead, Stonehaven, Strathdon, Turriff, Westhill
This page is part of our Fishing Lake Directory for Aberdeenshire. If you weren't looking for Fishing Lake in Aberdeenshire please use the search at the bottom of the page.
Fishing Lake Reviews in Aberdeenshire
Please contact us with your reviews of any of the lakes you visit or fish. Opening hours and costs are very useful.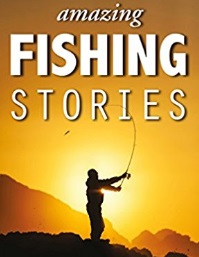 You will find short extracts from Amazing Fishing Stories on each of our directory pages. There is a link to buy the book on our book page.
Short Extract
The first he knew that anything untoward was happening was when the temperature dropped dramatically, even though there was now plenty of cloud cover and the wind remained in the south, so should still have been a warming influence. Peter was an experienced sea trout fisherman and knew instinctively that nothing meteorological should be causing the sudden change in conditions. Whether through this realisation or some inner sense that something very strange was about to take place, he felt the hairs on the back of his neck stand on end and a shiver of adrenalin d
You can't catch fish unless your line is in the water. However uninspiring the conditions may be, it's always worth having a go. You never know, you might even become responsible for naming a new pool.
ome salmon pools bear the surnames of personalities who fished them in the past, while others relate to terrestrial features: Black
Rock, Bridge, Farm and the like. The discovery of a new pool is very rare, even after major flood events. The topography of existing pools may change dramatically when the river is in particularly heavy spate, but seldom does su
Ocean exploded in popularity during the last couple of decades of the twentieth century. Great fun though saltwater fly-fishing is, exponents still occasionally like to take time out and revert to the old methods of bait or surface lure fishing with poppers for bigger specimens, such as barracuda, billfish or one of the all-time favourite quarries, giant trevally. Trevally, pound for pound, have a reputation for being one of the hardest fighting fish in the sea.
ANCHORS AND LEMONADE
Steve was on Alphonse in the Indian Ocean. He decided to ask his boatman w


Full List of areas covered on our Aberdeenshire Fishing Lake Directory:
Aberchirder, Aboyne, Achath, Affleck, Aldie, Alford, Allanaquoich, Allancreich, Allardice, Arbuthnott, Ardallie, Ardgowse, Ardlair, Ardo, Ardoyne, Arnhall, Arthrath, Artrochie, Asloun, Auchallater, Aucharnie, Auchattie, Auchenblae, Auchininna, Auchintoul, Auchiries, Auchleven, Auchlunies, Auchmacoy, Auchnagatt, Aucholzie, Auchorrie, Auds, Aultnapaddock, Aulton, Auquhorthies, Backburn, Backfolds, Backhill, Backhill of Clackriach, Backhill of Trustach, Backside, Badenscoth, Badenyon, Bailliesward, Bainshole, Balbithan, Balchers, Balfour, Balgove, Balgreen, Balhalgardy, Ballater, Ballaterach, Ballochan, Ballogie, Balmedie, Balthangie, Banchory, Banchory-Devenick, Banff, Bankhead, Barthol Chapel, Baulds, Bearnie, Beggshill, Belhelvie, Belhinnie, Bellabeg, Benholm, Birkenhills, Birkhall, Birse, Birsemore, Blackbraes, Blackburn, Blackchambers, Blackdog, Blackford, Blackhill, Blackness, Blairshinnoch, Blairydryne, Blairythan, Blindburn, Boddam, Bogbrae, Bogfern, Bogfields, Bogfold, Boghead, Bogniebrae, Bograxie, Bogton, Bonnykelly, Bonnyton, Borrowfield, Boultenstone, Boyndie, Brackens, Bracklamore, Braefoot, Braemar, Braenaloin, Brathens, Brideswell, Bridge of Alford, Bridge of Bogendreip, Bridge of Canny, Bridge of Dee, Bridge of Dye, Bridge of Ess, Bridge of Feugh, Bridge of Gairn, Bridge of Muchalls, Bridgend, Broadsea, Broomfield, Broomhead, Brownhill, Bruntland, Buchanhaven, Bulwark, Burnend, Burnhaven, Burnhervie, Burnside, Bush Crathie, Cairnargat, Cairnbeathie, Cairnbrogie, Cairnbulg, Cairne, Cairness, Cairnhill, Cairnie, Cairnorrie, Cambus o'May, Cammachmore, Candacraig, Canterbury, Cardno, Carmont, Carnichal, Carnousie, Castleton, Catterline, Causeyend, Chapel Hill, Chapel of Garioch, Chapelton, Charlestown, Clachanturn, Clashindarroch, Clatt, Clatterin Brig, Clochtow, Clockhill, Clola, Clova, Clovenstone, Clunie, Coachford, Cobairdy, Coburty, Cock Bridge, Coldwells, Collieston, Collmuir, Collynie, Colnabaichin, Colpy, Comers, Conland, Cookney, Cookston, Coralhill, Cordach, Corgarff, Cornhill, Corrachree, Corse, Corse of Kinnoir, Corsindae, Cothall, Cottown, Cot-town, Coull, Cowie, Coynach, Coynachie, Craigculter, Craigdam, Craigearn, Craigellie, Craigie, Craigie Brae, Craiglug, Craigmaud, Craigmyle Ho., Craik, Cranna, Craskins, Crathes, Crathie, Crawton, Crichie, Crimond, Crimonmogate, Crofts of Haddo, Cromblet, Cross of Jackson, Crossroads, Crovie, Cruchie, Cruden Bay, Culdrain, Culsh, Cultercullen, Culvie, Cuminestown, Cushnie, Cuttyhill, Daldownie, Dalfad, Dalmadilly, Darnabo, Darnford, Darra, Dartfield, Davan, Daviot, Deecastle, Delfrigs, Denend, Denhead, Denmill, Denmoss, Denside, Dinnet, Dorsell, Doune Park, Douneside, Downies, Drumblade, Drumblair, Drumdelgie, Drumhead, Drumlasie, Drumlithie, Drumoak, Drums, Drumwhindle, Drymuir, Dubford, Dulax, Dumeath, Duncanston, Dunecht, Durno, Dykelands, Dykeside, Earlsford, East Auchronie, East Cairnbeg, East Davoch, East Learney, East Mains, Easter Balmoral, Easter Ord, Easter Tulloch, Easter Whyntie, Ecclesgreig, Echt, Edinbanchory, Ellon, Elrick, Errollston, Esslemont, Fattahead, Fawsyde, Feith-hill, Fetterangus, Fettercairn, Fetternear Ho., Feus of Caldhame, Fichlie, Findon, Fingask, Finnygaud, Fintry, Finzean, Fisherford, Flushing, Folla Rule, Forbestown, Fordoun, Fordyce, Fortrie, Foulzie, Foveran, Fraserburgh, Frendraught, Fyvie, Gamrie, Gardenstown, Garlogie, Garmond, Gartly, Garvock, Gask, Gateside, Glack, Glanderston, Glascorrie, Glashmore, Glassaugh, Glassel, Glenbervie, Glencat, Glencuie, Glendye Lodge, Glenkindie, Glensaugh, Glenshalg, Glenton, Gordonstown, Gorrachie, Gourdas, Gourdon, Grainhow, Grantlodge, Greendams, Greenhall, Greenheads, Greenlaw, Greenmyre, Greenskares, Greystone, Hardgate, Hatton, Hatton Castle, Hatton of Fintray, Hattoncrook, Haughs, Heathcot, Heugh-head, Hillbrae, Hillhead of Auchentumb, Hillhead of Cocklaw, Hillockhead, Hillside, Hilton, Hirn, Howe of Teuchar, Huntly, Hythie, Inch, Inchmarlo, Inchnabobart, Inkhorn, Insch, Inver, Inverallochy, Inverbervie, Inverebrie, Inverey, Invergelder, Inverkeithny, Invernettie, Inverquhomery, Inverugie, Inverurie, Inverythan, Ironside, Jackstown, Johnshaven, Johnston Mains, Kebholes, Keig, Keilhill, Kemnay, Kennerty, Kennethmont, Kildrummy, Kincardine O'Neil, Kincraig, Kinellar, Kingsford, Kinharrachie, Kinknockie, Kinmuck, Kinnadie, Kinneff, Kintocher, Kintore, Kiplaw Croft, Kirkney, Kirkton, Kirkton of Bourtie, Kirkton of Culsalmond, Kirkton of Durris, Kirkton of Glenbuchat, Kirkton of Logie Buchan, Kirkton of Maryculter, Kirkton of Skene, Kirktonhill, Kirktown, Kirktown of Alvah, Kirktown of Auchterless, Kirktown of Fetteresso, Kirktown of Rayne, Kirktown of Slains, Knaven, Knowes of Elrick, Knowhead, Ladysford, Laithers, Landerberry, Largie, Largue, Lary, Lauchintilly, Laurencekirk, Leask, Lemnas, Leochel-Cushnie, Leschangie, Leslie, Lessendrum, Lethenty, Ley, Leylodge, Leys, Linhead, Linn of Muick Cottage, Little Dens, Little Idoch, Little Ley, Loanhead, Lochside, Logie Coldstone, Logie Newton, Longdrum, Longhill, Longmanhill, Longside, Lumphanan, Lumsden, Lunderton, Luthermuir, Lyne, Lyne of Skene, Macduff, Macterry, Mains of Culsh, Mains of Dillavaird, Mains of Drum, Mains of Dudwick, Mains of Fedderate, Mains of Linton, Mains of Pitfour, Mains of Pittrichie, Mains of Thornton, Mar Lodge, Marnoch, Maryhill, Marykirk, Marywell, Maud, Meikle Strath, Meikle Tarty, Meikle Wartle, Melgum, Melrose, Memsie, Menie Ho., Mergie, Methlick, Mid Ardlaw, Mid Beltie, Middlehill, Middleton, Midtown of Barras, Migvie, Milbethill, Mill of Colp, Mill of Elrick, Mill of Kingoodie, Mill of Monquich, Mill of Uras, Millbank, Millbreck, Millburn, Millden, Millton of Noth, Milltown, Milltown of Campfield, Milltown of Craigston, Milltown of Towie, Milton Coldwells, Milton Inveramsay, Milton of Auchinhove, Milton of Cairnborrow, Milton of Cullerlie, Milton of Cushnie, Milton of Tullich, Minnes, Minnonie, Mintlaw, Monkshill, Monteach, Montgarrie, Monymusk, Morphie, Mossat, Mosshead, Mounie Castle, Mountblairy, Mowtie, Muchalls, Muckletown, Muir, Muir of Fowlis, Muirden, Muirhead, Muirskie, Muirtack, Muiryfold, Nether Crimond, Nether Glasslaw, Nether Kinmundy, Nether Lenshie, Nether Pitforthie, Netherbrae, Netherley, Nethermuir, New Aberdour, New Byth, New Deer, New Leeds, New Mains of Ury, New Mill, New Pitsligo, Newbigging, Newburgh, Newmachar, Newmill, Newnoth, Newseat, Newton, Newtonhill, Newtown, North Essie, North Millbrex, Northburnhill, Northfield, Old Craig, Old Crombie, Old Deer, Old Kinnernie, Old Leslie, Old Portlethen, Old Rattray, Old Rayne, Oldhall, Oldmeldrum, Oldmill, Oldtown of Ord, Oldwhat, Ordhead, Ordie, Orrok Ho., Overton, Oyne, Park, Parkneuk, Pathhead, Peathill, Pennan, Percie, Perkhill, Peterhead, Petty, Pettymuick, Phesdo, Pitblae, Pitcaple, Pitfichie, Pitinnan, Pitmedden, Pitmunie, Pittodrie Ho., Plaidy, Port Elphinstone, Port Erroll, Portlethen, Portsoy, Potarch, Potterton, Protsonhill, Quilquox, Rathen, Raxton, Redcloak, Redford, Redhill, Redhouse, Rhynie, Rickarton, Rinloan, Rinmore, Roadside of Kinneff, Rora, Rorandle, Rosehearty, Rosehill, Rothiebrisbane, Rothienorman, Ruthven, Sandend, Sandfordhill, Sandhaven, Sauchen, Sauchieburn, Scotston, Seatown, Shiels, Silvermoss, Sinnahard, Skares, Skelmonae, Skelmuir, Slack, Slains Park, Slioch, Smallburn, South Blackbog, South Kirkton, South Redbriggs, South Upper Barrack, Southend, Spittal of Glenmuick, Springleys, St Combs, St Cyrus, St Fergus, St Katherines, Steinmanhill, Stirling, Stonehaven, Strachan, Straloch, Strathdon, Strathgirnock, Strichen, Stuartfield, Succoth, Sunnyside, Tanglandford, Tarland, Tarves, Tavelty, Teuchan, Tewel, Thainston, Thainstone, The Banking, The Birks, The Burn, The Neuk, Thomastown, Thornyhill, Thunderton, Tifty, Tillathrowie, Tillery, Tillybirloch, Tillycorthie, Tillydrine, Tillyfar, Tillyfour, Tillyfourie, Tillygreig, Tillypronie, Tipperty, Tocher, Todlachie, Toll of Birness, Torbeg, Tornahaish, Tornaveen, Torphins, Torrancroy, Torry, Torterston, Towie, Tulloch, Tullochvenus, Tullynessle, Turclossie, Turriff, Udny Green, Udny Station, Union Croft, Upper Boyndlie, Upper Burnhaugh, Upper Hawkhillock, Upper Lochton, Upper Ridinghill, Wardhouse, Wartle, Waterhill of Bruxie, Waterloo, Waterside, Weachyburn, Wedderlairs, West Cairncake, West Park, Wester Badentyre, Wester Culbeuchly, Wester Fintray, Wester Ord, Westerton, Westhall, Westhill, Westside, Wheedlemont, Whinnyfold, Whitebog, Whitecairns, Whitefield, Whiteford, Whitehills, Whitehouse, Whiterashes, Whitestone, Whitestripe, Whitewell, Whitlam, Woodend, Woodhead, Woodtown, Wrae, Wrangham, Yonder Bognie, Ythanwells, Ythsie