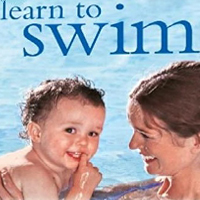 When it comes to baby swimming classes, we are a little nervous of using that term.  It conjures up visions of the local pool crammed with at least 6 or 8 babies and a swimming teacher on the side barking instruction and expecting every baby to be the same, leaving mothers whose babies don't seem to conform feeling lost and vulnerable.
There is also the issue of how Mum feels too.  New mothers especially can feel very vulnerable in this situation.  Perhaps they book the obligatory baby swimming classes because they want baby to learn to swim when they have never been a strong swimmer themselves.

Baby Swimming Classes
If you are a strong swimmer and comfortable in the water and are lucky enough to have a resilient baby who will cope with anything thrown at him or her, then go ahead and book those baby swimming classes at your local pool.
If not, you might want to consider booking private swimming classes for you and your baby.  You and your baby will have the total and exclusive use of our small 'baby-friendly' pool for your class and the undivided attention of an instructor who will tailor the sessions to both you and your babies needs.
The pool at Swim-Easy is largely used by swimmers with phobias and other nervous non-swimmers as well as individual mother and baby water awareness sessions.  If you see anyone at all before or after your session, it will be a nervous swimmer or another mum with her baby occasionally Dad.  Occasionally they will be leaving as you arrive for your class, or arriving for their class as you leave after yours.  That's it!   What you won't see is loads of people lining up for their swimming classes and a frenetic noisy environment that often terrifies babies before they even get in the pool.
We are based in Swadlincote, Derbyshire and can offer baby swimming classes on a week to week basis for those within traveling distance and residential packages for those a bit further afield.
Whilst we offer baby swimming classes phrased as such, each and every session is tailored to you and your baby.  You may book a mother and baby swim that turns into something more adventurous when you and your baby are ready, or you may book a baby swimming class and find that you'd rather have a relaxing play session with your baby.