Learn about Web Design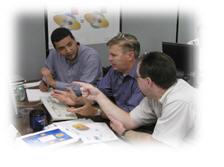 Adult students learn about web design
Welcome to Spirita Web Design.  Here you will find everything you need to know as you learn about web design.  When we decided to start the web site, we soon realised that there were many people search for learn about web design but this phrase means very different things to different people.  For some simply learning about the way web design work is enough, they have no intention of actually doing it.  For others they may simple want the basics.  For those who feel a bit more adventurous, they want want to learn about web design using Expression Web or even get into CSS Web Design Tutorials.  Whatever your need, we hope we can help you learn about web design.
Website Design Tutorials. The use of colours, content, graphics, navigation and Web style all work together toward creating an effective Website. Learn about Website design and you will be able to answer these questions: What colours do you want to use? How do you keep the look of your site consistent? Why content is so important? What graphics should you add? How will visitors navigate your site? How can you layout your pages?  Visit Free Computer Tutorials for a really great place to learn about web design.  Here you will find the basics helping you to learn the 'language' of web design.Learn about Expression Web Design.
Free CSS Web Design Tutorials.  Free CSS Tutorials. Cascading Style Sheets (CSS) is a fantastic tool to add layout to your web design. It can save you a lot of time and it enables you to design websites in a completely new way. CSS is a must for anyone working with web design. Learn about web design and try and CSS web design tutorials.  Theywill get you started with CSS in just a few hours.
Expression Web Design.  Expression Web Design is the latest software from Microsoft replacing FrontPage. Expression Web offers all the simple "what-you-see-is-what-you-get" tools for creating a Web site along with some great new features for working with Cascading Style Sheets and other Expression Web design options. Microsoft Expression Web is supposed to show the easy way for first-time Web designers, but for myself, an experienced FrontPage user, I found it time-consuming to get results with  Expression Web Design.
Basic Web Design Courses.  Some of you will have enough experience to jump straight into the above web design tutorials but for most of you, what you will find useful is a basic web design course.  Visit of page Basic Web Design Courses if you want to look for local web design courses in your area.  Also on the basic web design course page, we will add tutorials to help you master the basics online without the need to book a course.
---
Spirita Web Design has many opportunities to come across sites offering Free Web Hosting especially those offering Web Hosting UK.  Please take the time to visit these web design and hosting companies and see if they can offer what you are looking for as you search for design and hosting companies that need your web needs.
Of course, no web design and hosting package would be much good without SEO.  If you haven't given this are much thought, now would be a good time to Google SEO or to give it it's full name Search engine optimisation.  It's a very important aspect of setting up a website.
And finally, for those thinking about Content management may we suggest this site could be useful to you.  Here you have a one-stop information resource for people looking to evaluate, benchmark, compare and source enterprise/web content management and document management solutions.
Web Design Courses